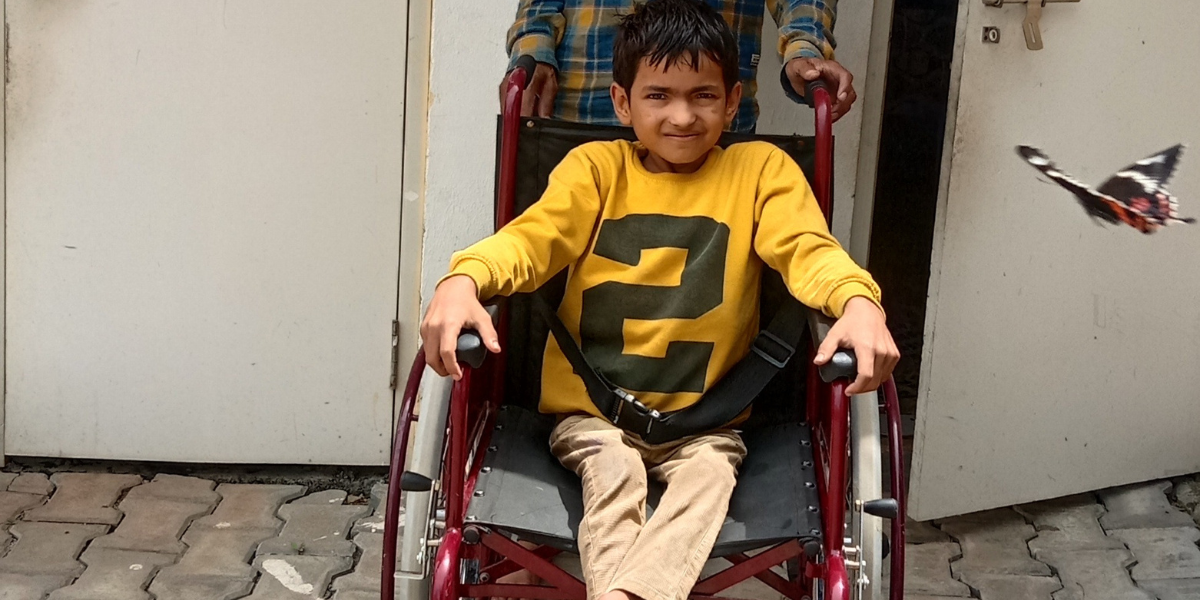 Devendra and his wife, Nirmala, hail from Nepal. The couple were over the moon when they welcomed their first child, a healthy baby boy named Balakrishna.
Their life took an unexpected turn when Balakrishna developed a fever and swelling in his legs at the age of 3. Despite spending over INR 1.5 lakhs on treatment, his swelling didn't go away. He was referred to NIMHANS, Bangalore, from Kathmandu. Around the same time, a family friend offered them a house and land to stay in near Mugalur, Bangalore. The family moved to Bangalore, hoping to seek better treatment for Balakrishna.
During further investigations, the MRI of Balakrishna's brain showed that he had developed neuropathy. Devendra and Nirmala were heartbroken when doctors informed them that Balakrishna might not be able to walk. At this time, Balakrishna struggled with feeding and lost weight but eventually, he began to move by crawling. Despite this improvement, Devendra and Nirmala were anxious about their son's health.
During a regular house visit, Mr Muniraj, Balakrishna's landlord, mentioned his condition to the St. John's hospital staff, checking for any possible support. The outreach team visited Balakrishna's family, assessed his situation, and guided them to the Unit of Hope clinic at Mugalur, which is run with the support of CBM India. CBM India works with the Unit of Hope at St. John's Medical College, providing medical and rehabilitation support for children with disabilities. This was a turning point for the family; they finally had guidance and access to the medical expertise they needed.
They took the advice of the Unit of Hope team and visited the clinic at St. John's Medical College Hospital. He received consultation from an expert orthopaedics team, and the paediatric orthopaedic surgeon recommended surgery to improve Balakrishna's mobility.
At first, the family was uncertain about proceeding with the treatment as they could not afford the surgery. However, understanding the family's financial constraints and the urgent need for the treatment, the Unit of Hope team subsidised the surgery, making it possible for Balakrishna to receive the needed treatment.
After a successful surgery, Balakrishna underwent regular physiotherapy to improve his mobility. As days passed, he started making significant progress in his physical development. Today his mobility is better, and he even sits on a bicycle comfortably with little help. The family has also secured a wheelchair for Balakrishna at no cost from the Village Revenue Officer. Balakrishna continues to receive regular follow-up care via home visits to improve his strength and mobility.
Balakrishna has become more confident, and he is also socialising with his school friends better. Devendra and Nirmala are grateful for the guidance and support they received and are determined to provide him with the best possible future.
The Unit of Hope and CBM India have been working together to provide children like Balakrishna with a healthier and happier childhood. Our mission is to ensure that every child, regardless of their ability, can thrive and fulfil their potential.