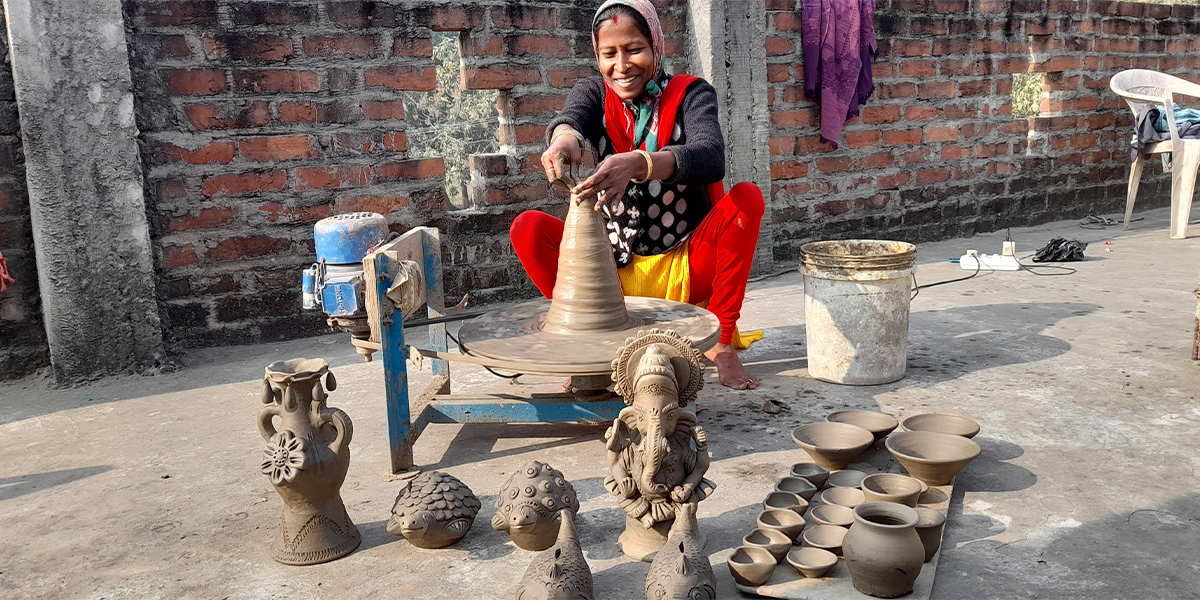 An early childhood viral infection hindered Poonam's physical development, resulting in the reduced functionality of her lower limbs. Due to this, while growing up, she had low self-confidence and often wondered about her future.
When Poonam was looking for an opportunity to change her life around, Swabalamban Project in Gorakhpur, Uttar Pradesh, came as a ray of hope. Through the project, she was introduced to an inclusive Self-help Group (i-SHG), where she underwent several capacity-building trainings on leadership, rights and entitlements, livelihood opportunities, government programmes/schemes, etc. She put her heart and mind into the training and was determined to make the best out of it. It gave her much joy to be part of something big.
Right from the beginning, she actively participated and led from the front. Soon she became the president of the i-SHG and vice president of the School Management Committee of the primary school in her village.
Poonam's training in vegetable production and organic farming helped her create a kitchen garden, producing organic vegetables that met her family's nutritional needs and improved their overall health. She also started making terracotta products after her training in clay art. She has mastered making utensils, statues, and home décor items. By selling them, her income has increased by 60%. "Today, I'm not only contributing to my household income but also saving up for the bright future of my family", shares Poonam proudly.
Like Poonam, the Swawlamban programme has bought about incredible changes in the lives of nearly 3000 people, including 1507 persons and children with disabilities. Implemented in 40 remote villages of Gorakhpur District in eastern Uttar Pradesh, India, the project improves the community's socio-economic and health status and promotes inclusive education. So far, the project has established 40 Outpatient departments for health check-ups, 56 iSHGs, and 38 operational Inclusive School Management committees. 438 participants with disability have successfully initiated inclusive livelihood activities in the farm/off-farm sectors, and 116 children with disabilities received rehabilitation services.