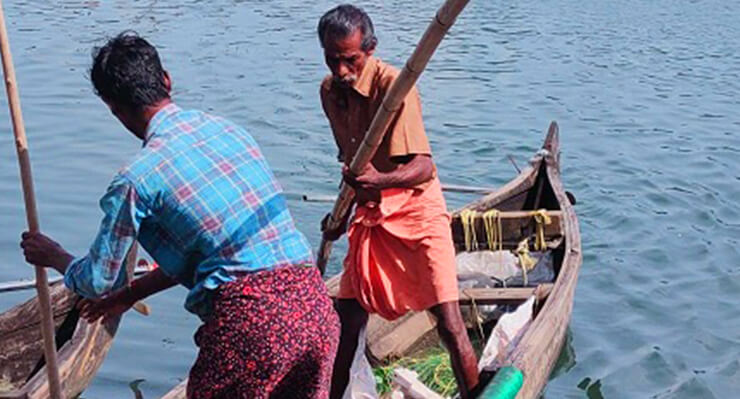 Kerala, home to serene backwaters, was rattled by a series of torrential rains in August 2018, which caused heavy flash floods. The state had not seen floods of this magnitude in a century. Although thousands of humanitarian organizations flocked to Kerala to lend a hand to the flood victims, the state needed support to reconstruct and revive its economy, which was reeling from the effects of the horrendous deluge.
Wipro Cares joined the rehabilitation efforts of CBM India's 'Project Shakthi' during this time to rebuild the lives of 150 fishing families, including persons with disabilities. The primary interventions revolved around providing reparations for boats: 34 fishermen received new boats; 48 fishermen had their boats repaired; and 15 fishermen were given new boats. All 150 families were also given fishing gear and nets to replace those that were damaged during the floods. Furthermore, 50 women-headed families were able to restore mollusc processing units, which ensured additional income. Setting up a cold storage unit helped optimise and strengthen the existing value chain of fish products.
The project also strengthened community structure and interactions by the formation of Disabled Peoples Organizations and new Self Help Groups. Above all, the training on Disability Inclusive Disaster Risk Reduction has enabled communities residing closer to the backwaters to be better prepared to handle similar disasters in future with minimum damage. CBM India's community partner Kottayam Social Service Society has also played a crucial role in the rehabilitation of these families.
54-year-old fisherman, Gopi P. K., stays with his wife Shylaja, 3 sons, and his sick mother. "Project Shakthi has indeed provided the community hope to rebuild our lives and the strength to unite in the face of future danger," says Gopi of Vechoor Panchayat, Kerala. Shylaja Gopi was diagnosed with uterus cancer and has been under treatment for the past 5 years. With his earnings from fishing, Gopi, who is the sole earner of the family, constructed a house recently. He was also able to meet the educational needs of his sons and the medical expenses of his wife. However, the deluge has left him without an income.
"The floods washed away all my belongings," says Gopi who used to fish every day and earn nearly INR 500 daily. Three weeks of water logging took away his livelihood: damaged his house, belongings, and most importantly his boat. "I was shocked to see the damage to the boat, its engine and the nets. Initially, we stayed at the camp and got timely food. But
since returning, we struggled to find food and have been managing with just a meal a day," continues Gopi; "I have lost everything we have accumulated with our hard work… but if my boat was there, it would have been a ray of hope for us."
It was during this time that field workers from Kottayam Social Service Society visited Gopi's house. "The visit turned out to be a blessing for my family and the community. There was a moment when I felt my life had ended, but by returning our livelihood to us, Wipro Cares and CBM have helped us start anew. Thanks to them, I received boats, engines, and a net. I am proud that I am able to support my family," narrates a beaming Gopi. He adds that he goes fishing regularly with his friends now and is able to bring home an income of INR 700 daily. "The invaluable support not only helped us restart our lives but also to lead more dignified lives than before. My family and I join hands to express our heartfelt thanks to CBM-Wipro team for bringing back smiles to our faces," says Gopi.