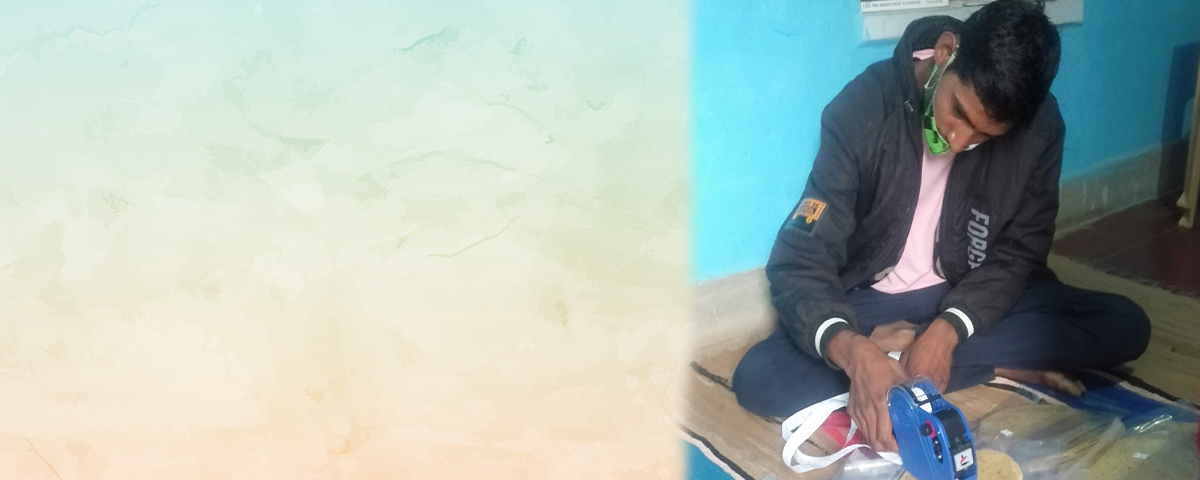 CBM India Trust works with Swami Vivekanand Punervas Samsthan on livelihood projects in the Sikar district of Rajasthan. The project executes a baseline survey to identify persons with disabilities willing to work for their families. In one of the surveys, CBM came across Vedprakash, a 23-year-old boy from the Neem ka Thana Tahsil.
During his childhood, Ved displayed delayed intellectual development. He had to get the help of his family, especially his elder sister, to move from one place to another. His parents worked as labourers in a brick kiln and usually stayed away from home for long periods to make money. Having to take care of a family with three kids, the financial requirements of their household were high. Although he studied till class 8 and learned the basics of reading, writing, and numbers, his learning abilities were lower than his peer group.
When the project coordinators interacted with Ved, they found him willing and able to learn about livelihood activities. They discussed the idea of Ved attending sessions organised by the project. Initially, his elder sister took him to the training centres, but as the sessions continued, Ved gained the courage to walk alone to the centres. Gradually, he learned the activities that would provide him with employment opportunities, which included gardening, pruning, packaging, and labelling. He loved playing games and, most of all, riding his bicycle. The training helped him with various activities and taught him to recognise and calculate money, paving the path toward financial independence. The sessions taught him valuable lessons in social interaction.
Working, earning, and doing his chores all alone helped Ved gain the confidence he lacked. By interacting with and helping people, he also improved his social skills. Vedprakash now believes that the future he dreams of is attainable.