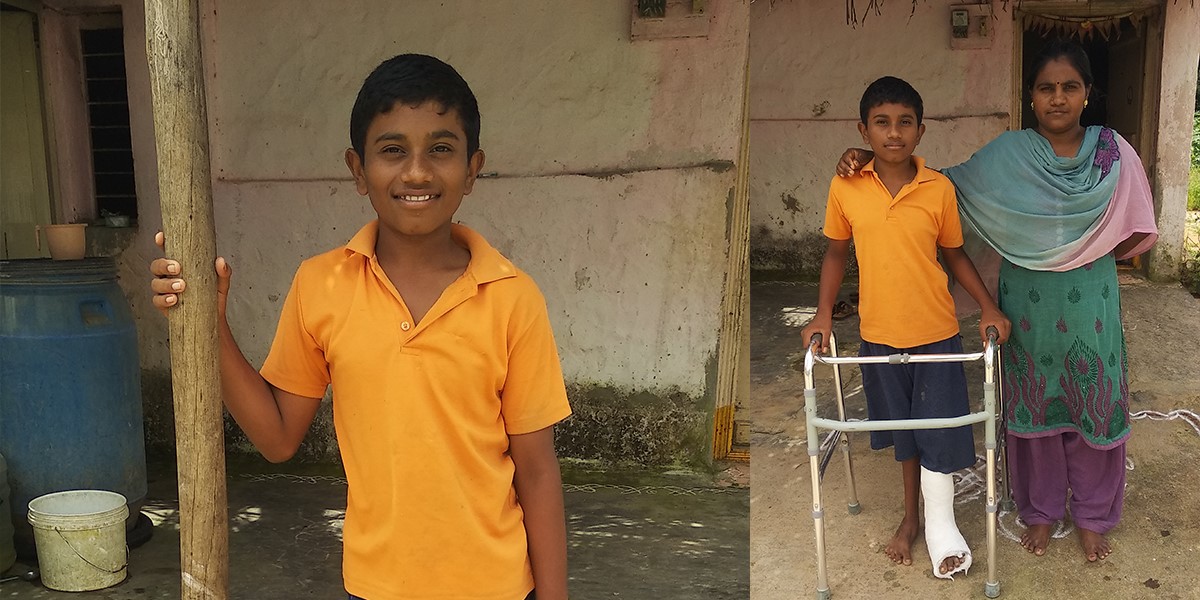 Every day over 67,000 children are born in India. But for nearly 150 of them born with clubfoot, their journey is far from simple. Nivedhan, a bright 8th-grader, is one such child. Born as the eldest of Rajappa and Varalakshmi's children, Nivedhan lost his father when he was only two years old. Varalakshmi was left to raise him and his younger sister Nandhini alone.
Nivedhan was born with clubfoot, and although doctors had advised his parents to seek treatment back then, the family couldn't afford the treatment or surgery. They also believed it was a religious taboo, so they decided to defer the treatment.
Years went by, and Nivedhan grew up facing challenges in performing everyday activities and found it difficult to walk, play, and attend school. Despite these obstacles, Nivedhan remained a studious and determined child. Then his family moved to Rural Bengaluru district to live with his grandfather.
Our staff noticed Nivedhan during a Community-Based Rehabilitation meeting in his community. The team visited Nivedhan's home and school, assessed the situation, and discussed further treatment with his family. They offered support to address the family's financial concerns.
Nivedhan's aunt took charge and brought him to St. John's Hospital, where doctors recommended surgery to correct the neglected clubfoot. Nivedhan underwent the procedure and a careful rehabilitation process post-surgery. Now, Nivedhan can walk, play, and go to school with greater ease and comfort!
With regular follow-up care from health workers, Nivedhan is overcoming the limitations that had once held him back. He also got his Unique Disability ID and is currently receiving a pension. Through Dhwani Foundation, a group for persons with disability, the family has also learned about all the government resources and other support available to them.
Nivedhan and his family have shed their beliefs in myths and taboos surrounding disability, becoming advocates for seeking proper medical care. Nivedhan's daily activities are now effortless, allowing him to focus on his studies as an 8th-grader. With his physical limitations a thing of the past, he fully embraces his childhood and all the joy and adventures that come with it.
CBM India in partnership with Cure India runs community-based clubfoot rehabilitation programmes across India. In Bengaluru, CBM India works with the Unit of Hope, a dedicated unit for children with disabilities at St. John's Medical College, providing support for children with disabilities. Here, we have a dedicated team that works tirelessly to provide life-changing rehabilitation services for children with clubfoot.
CBM India's community workers also conduct regular screenings along with frequent awareness programmes, mobilisation, and referrals to identify children and families that require support. Our awareness activities have reached one lakh people in Bengaluru alone.
We imagine a world where every child born with clubfoot has the ability to move freely, where every step is a step towards a brighter future. This is the dream we're working towards. Join us in our mission to secure the footing of every child born with clubfoot in India.